The Vancouver Division recognizes the importance of the health and wellness for our community. Below are Member Wellness resources and programs we hope you'll find useful. 
And, of course, if you'd like more information, please contact the Membership team at membership@vancouverdivision.com 
Dr. Daniel Dodek (Dr Dan) is Vancouver Division's Lead for Physician Health and works to provide a number of Wellness tips for family physicians.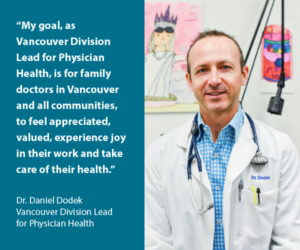 The Division would like to acknowledge physician lead, Dr. Daniel Dodek for his ongoing commitment to bring wellness to the forefront of our communications and support. Dr. Dan writes a weekly physician wellness column to offer discussion and presentation of support centred around health and wellness. His 'Dr. Dan Wellness Tips' continue to provide comfort, reflection, and humour, through sharing an honest and relatable voice, which has become so important during this past year.
Take a look through some of Dr. Dan's Tips and Resources below. If you were inspired by a previous Dr. Dan Wellness Tip or Resource and looking to find it, please contact Bella Hauner.
"The amazing Arethra Franklin documentary was released this summer titled "RESPECT". This led me to think about how patients treat our staff and how patients interact and communicate with physicians. Respect is a fundamental value that is required in the health care setting that contributes to a psychological safe work space. The Vancouver Division has produced a poster that Family Doctors can use throughout the medical office reminding patients of appropriate behaviour. Arethra Franklin said it best: "I think it would be a far better world if people were kinder and more respectful to each other."
Here are some resources to look at:
Information about smartphone recording of the clinical encounter: Smartphone recordings by patients: Be prepared, it's happening
CMPA for medical legal advice: 1-800-267-6522
Physician Health Program 1-800-663-6729
Helpful tool for staff and physicians to use after experiencing and upsetting event: ABC123 PSYCHOLOGICAL FIRST AID TOOL"
"Endurance can be defined by the power of coping with an unpleasant or difficult process or situation without giving up. I am so amazed at my colleagues in the hospitals and community who continue to endure throughout the pandemic. One of my professional challenges is that the finish line keeps getting pushed farther away. Sports psychologists stress focus on today's match and not the end game ensures best performance. For me, this may mean looking forward to a run with my daughter, a home cooked meal or a phone call with a friend at the end of the day."
"I have a 240 second challenge for you: deep listening. According to Dr. Marissa King in the book Social Chemistry this exercise can help you become more open, flexible and less biased. Start by asking a friend or colleague, "what is it like to be you today?" Now the hard part – listen uninterrupted for 2 minutes. No affirmations, no questions. Warning: this may be seriously uncomfortable. But in 240 seconds you might just learn a lot."
"I am normally not a hugger; just ask my wife. However, hugging increases a sense of connection, belonging and wellbeing. Studies have shown hugging actually stimulates our immune system and releases oxytocin. Normally I move in for a good pat on the shoulder, the half hug, back slap or new for me: fist bump. But in the appropriate situation with family and loved ones, a hug time of 3 seconds is the optimal effective dose to create that bond, feel good response according to studies."
"I am working on my ability to become more flexible in life. This has been a challenge for me when faced with regular uncertainty during the pandemic. In the book Atomic Habits by Adam Clear, he states "the more you let a single belief define you, the less capable you are of adapting when life challenges you." I am learning that sometimes being flexible will create new great opportunities and experiences for me. I find this actually quite liberating and energizing."
Additionally, find below a number of resources to help you on your wellness journey.
Dr Dan's Wellness Resources
Peer Support Initiative Program
Physicians can benefit from sharing their challenging experiences with peers who may have experienced similar situations and can truly understand. Support from colleagues can have a positive impact on wellbeing and workplace experiences.
The Peer Support Initiative offers confidential, non-clinical, support to physician colleagues by physician Peer Supporters in a 1:1 setting.