PCN 4 Featured Story: Optimizing clinic with innovative use of space at Kariba Health
During the first stages of the pandemic, clinics in Vancouver have had to adapt, change, and evolve to meet the ever-changing demands of their environment and continue to provide the best care to their patients. Primary care witnessed a huge migration from in person appointments, to mostly virtual care through remote communications using technology to maximize the quality and effectiveness of patient care. As we return a little to what life was like before the pandemic, clinics in primary care are striking a balance between the two.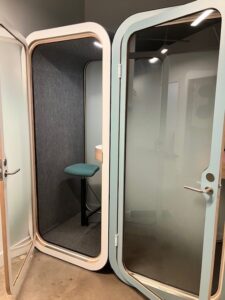 One problem this may pose is using a secure, private space within a clinic to conduct virtual care without compromising clinic workflow and space. Clinics in PCN 4, have been using clever techniques to maximize the space they have, whilst still providing diverse types of patient appointments. 
In winter of 2021, Kariba Health in Kitsilano introduced 2 virtual health care pods to their clinic. The pods are made by Framery and provide a self-contained compact space. "They are soundproof, ventilated and have plug points so are very comfortable to be in."  Not only is this a notable example of space optimization, but the pods have enabled for an "optimized workflow because the exam rooms are not taken up by people on virtual calls." says Dr Claire Rawson, clinic owner and family physician at Kariba Health. 
Dr. Rawson explains "I am very glad I chose to incorporate these pods into the clinic design, they have made our small space feel bigger and they were an opportunity to adjust to the current times."  Kariba Health currently has 3 exam rooms where family physicians can provide in-person appointments to patients. The introduction of the virtual care pods has enabled more providers to practice within the clinic, without sacrificing prime real estate of the larger exam room. The pods have now provided another 2 individual office spaces for providers to work in the 730sq.ft clinic.